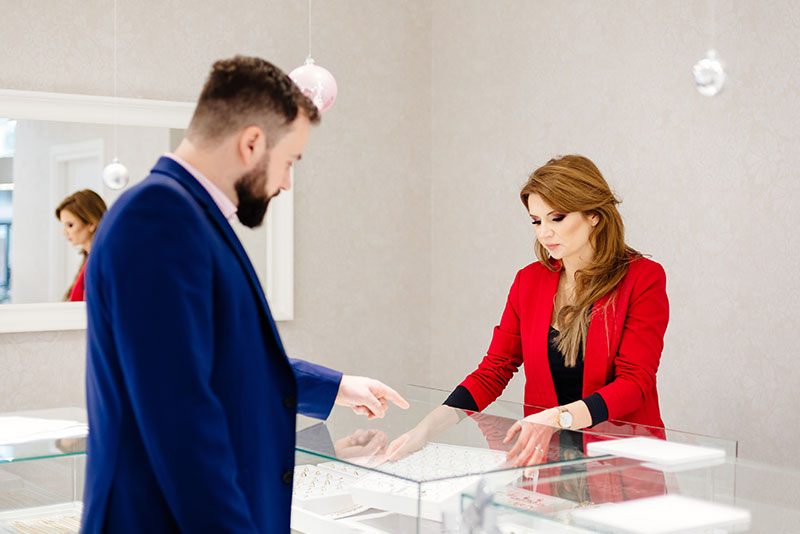 Please contact us for a free New England jewelers' insurance quote!
Call Us For A Free Insurance Quote Today 781.749.7566
Knowledgable Jeweler's Insurance Agents, Here for You!
As a New England jewelry store owner and/or independent jeweler you've put in countless hours and spent an immeasurable amount of physical and mental energy to establish your business in a region that demands quality and service. It is just as important to take time to select and understand your New England jewelers' insurance plan in order to protect your livelihood from perils associated with your business as well as threats specific to the jewelry industry. Specialized insurance is best purchased from a specialized insurance agency. At Child-Genovese Insurance Agency Inc we have been providing insurance expertise to the jewelry industry for over 50 years.
Get the insurance you need so that you can get back to your business.
For most business owners the primary motive to purchase New England jewelers' insurance is to protect their stock of precious metals, gems, finished jewelry, and cash. The best plans will include coverage for items that are both in and out of your safe, in your window and other display locations, as well as while in transit. Your mind will be at ease knowing you will receive financial relief in the case of fire, natural disaster, instance of crime, and other unforeseeable circumstances. Our team of jewelry insurance professionals will often suggest adding stock disappearance protection for both businesses with employees and independent operations to provide reimbursement when an item goes missing with no explanation. Our team at Child-Genovese Insurance Agency Inc. has years of local experience creating jewelers' insurance packages to fit the evolving needs of New England business owners.
New England Jewelry stores and independent jewelers require protections specific to their industry other than expanded property protection. Running a successful retail jewelry operation entails the utilization of employees. In order to protect yourself from instances or accusation of discrimination, harassment, and wrongful termination make employment practices liability a strong component of your New England jewelers' insurance. It is advisable for jewelers who frequent trade shows to obtain specific trade show coverage. Stores that perform repairs should consider workmanship coverage in an instance where a customer's item becomes damaged or lost. Appraisal liability coverage is another component specific to jewelers' insurance packages that is available to cover costs related to errors and omissions made when writing an appraisal. At Child-Genovese Insurance Agency Inc we know what coverages matter most to New England jewelers and how to get you the best possible coverage and price.
We'll find any potential discounts that we can in order to get you the best insurance at the best possible price!
As members of The New England Jewelers Association, The Boston Jewelers Club, The Providence Jewelers Club, and MJSA (Manufacturing Jewelers' and Suppliers of America) we are the trusted source for Rhode Island jewelers' insurance packages and advice. To last over fifty years, Child-Genovese Insurance Agency has remained an industry leader in New England jewelers' insurance by offering solutions that meet the problems faced by business owners. Increasingly with time, issues involving computers, interconnectivity, and digital crime plague many modern jewelers. Savvy proprietors can thwart the liability caused by digital threats like hackers, malware, and phishing attacks by adding data breach and cyber related protection to their insurance package. Start managing your risk as well as you manage your business and call us for a free quote today at 781.749.7566 or email us at info@cgiins.com.
Additional Jewelry Business Coverage Options
Here's a helpful list of additional coverages that we can use to help customize your jewelers' insurance policy.
These specialized insurance policies cover loss, theft, and damage to jewelry stock, ensuring that your precious assets are protected. 
Employment Practices Liability
Protection from the financial consequences associated with a variety of employment-related lawsuits.
Data Breach & Cyber Related Protection
Coverage for data compromise, e-commerce, computer fraud/funds transfer fraud, and identity fraud expense.
Covers unexplained losses other than those discovered taking inventory or from packages received in good condition.
Covers errors or omissions in performing written appraisals on jewelry.
Covers loss or damage to property belonging to others not in the jewelry trade that is being worked on.
Additional protection provided while attending jewelry industry events, as well as your time traveling to and from them.
Our most important goal is to serve our clients and to make sure that their coverage protects them to the fullest extent at their time of need.
- William Genovese, President
"*" indicates required fields